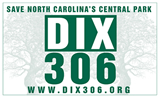 Send A
Dix306 Ecard
See The Save
Dix Park Wiki
Dix306 In The
News
Artists In
Support Of Dix Park
Invite A Speaker
Join Our Email List
Share Ideas
Contact Us
Dix306 Gear!
Mission Statement: Our goal is to save all 306 acres of the Dorothea Dix Campus for a World Class Destination Park for future generations.


Share Ideas!
It's important that all citizens of our state understand the once-in-a-lifetime opportunity that our government leaders have to improve the quality of life of all citizens in North Carolina.
We need you to share this issue with your friends, neighbors, co-workers, relatives, online friends, and anyone else you know.
Here are some ways you can do that:

Post signs in your yard, car, and workplace.

Encourage everyone you know to become involved.

Use online resources such as discussion groups to spread the word.
Write a letter to the Editor (News And Observer)

Contact: info@dix306.org

If you do send a letter to the editor, please send us a copy too. We will publish it on our LETTERS PAGE .

FAQ
Maps
Video
Plan
Comparisons
White
Paper
Events
Calendar
News
Archives
RSS Feeds
Quotes
From The Dix306 Petition
"Dix must remain a publicly served open space!"
Susan O'Neil