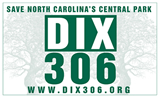 Send A
Dix306 Ecard
See The Save
Dix Park Wiki
Dix306 In The
News
Artists In
Support Of Dix Park
Invite A Speaker
Join Our Email List
Share Ideas
Contact Us
Dix306 Gear!
Mission Statement: Our goal is to save all 306 acres of the Dorothea Dix Campus for a World Class Destination Park for future generations.


Looking for the Official Dix Park Web site? Go here: DixPark.org

---

---
Send Dix Park E-Cards - "Imagine a Vision"
Share YOUR Vision!

FAQ
Maps
Video
Plan
Comparisons
White
Paper
Events
Calendar
News
Archives
RSS Feeds
Quotes
From The Dix306 Petition
"I am concerned that the wishes of Dorethea Dix are not being followed through with in this generation...With that being said, if the site intended for psychiatric treatment is to change, it should most definately benefit the entire community/visitors rather than an elite few."
Elizabeth Hoffmier