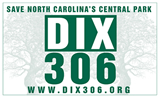 Send A
Dix306 Ecard
See The Save
Dix Park Wiki
Dix306 In The
News
Artists In
Support Of Dix Park
Invite A Speaker
Join Our Email List
Share Ideas
Contact Us
Dix306 Gear!
Mission Statement: Our goal is to save all 306 acres of the Dorothea Dix Campus for a World Class Destination Park for future generations.


Help Us Save Dix Park!
Contact Us
Mailing Address:
Dix306
1213 Dixie Trail
Raleigh, NC 27607-6841

Phone Number:
919-787-6378
Email Address:
info@dix306.org
Thanks for your support!

FAQ
Maps
Video
Plan
Comparisons
White
Paper
Events
Calendar
News
Archives
RSS Feeds
Quotes
From The Dix306 Petition
"I FEEL THE BEST WAY TO SAVE OUR PLACE IN HISTORY IS TO SAVE THIS VALUABLE PROPERTY. WE DO NOT NEED MORE BUILDINGS, BUT MORE TREES! IT NOT ABOUT MONEY ALL THE TIME, BUT ABOUT OUR HEALTH AND SAVING GOD'S HANDY WORK FOR OUR FAMILIES TO ENJOY!!!"
Wilbert Hooker, Jr.