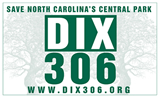 Send A
Dix306 Ecard
See The Save
Dix Park Wiki
Dix306 In The
News
Artists In
Support Of Dix Park
Invite A Speaker
Join Our Email List
Share Ideas
Contact Us
Dix306 Gear!
Mission Statement: Our goal is to save all 306 acres of the Dorothea Dix Campus for a World Class Destination Park for future generations.


Looking for the Official Dix Park Web site? Go here: DixPark.org

---

---
Artists In Support Of Dix Park
Majestic oaks, great open spaces, Raleigh's skyline inspire; Every day we become more and more a community of the creative classses where the arts and music, education and research, business and technology share a vision for this land that sits between a thriving capitol, and a great land grant university.
To this end, we would like to begin recognizing artists that have both been inspired by the Dix land, and are creating works that are inspiring. Please let us know of other artists inspired by and supporting the preservation of the 306 acres of the Dix Campus as a Destination Park.
Bett Padgett
This song is told in a futuristic conversation between a woman and her grandchild, about 40 years from now. It speaks of some of the obstacles that Dix Park advocates had to go through to become the destination park it is at the time of the conversation.
Once It's Gone, It's Gone
Bett's Web Site
Julie Williams Dixon
Sometimes to see something clearly you have to step away from it... you have to look at it from a distance, or from a different angle. From the Dix lands you can see the Raleigh skyline and get a sense of the city that you don't get from anywhere else. Amid the majestic oaks, or in the great open spaces, or perhaps walking amidst the historic buildings, you can choose to turn your focus outward, or inward. Sometimes it takes a scenic landscape to help us navigate our internal geography and make the connections that ignite the next new idea.
Above the Fray: Photographs from Dix Hill by Julie Williams Dixon

FAQ
Maps
Video
Plan
Comparisons
White
Paper
Events
Calendar
News
Archives
RSS Feeds
Quotes
From The Dix306 Petition
"Please do not let this once in a lifetime opportuntiy to give us a Park which can be a draw to visit our city! The central location is perfect for a park."
Barbara Woodlief